Wheel of Austen ~ Comedy/Improv
No paper tickets. All names will be checked off at the door.
2020 Dead of the Winter Cultural Series
One tends not to think of Jane Austen novels as silly or anachronistic or apt to make you laugh, but what if a cast of Austen characters appeared, and it were up to you to decide what they do? That's what happens when you participate in the Wheel of Austen. Characters dressed in period costume (who often perform at ImprovBoston, described as New England's Home for Comedy) step forward and ask for suggestions from the audience about what events occur next. Generally speaking, those characters are often either sisters or their suitors.
They might pose a question — "What have you always wanted as a gift but never got?" Or they might request that you to spin the wheel and see where it lands. Maybe it lands on a secret engagement, or a gentlemen's dual, or a conversation you're going to hear but that was not meant for your ears. Along there way there's a good chance of a marriage proposal, and someone is probably going to need smelling salts, but it may also come to light that Pride and Prejudice's Elizabeth Bennet loves the Netflix series Shameless or that Emma's George Knightley has secretly been betting not on the Patriots but the Ravens.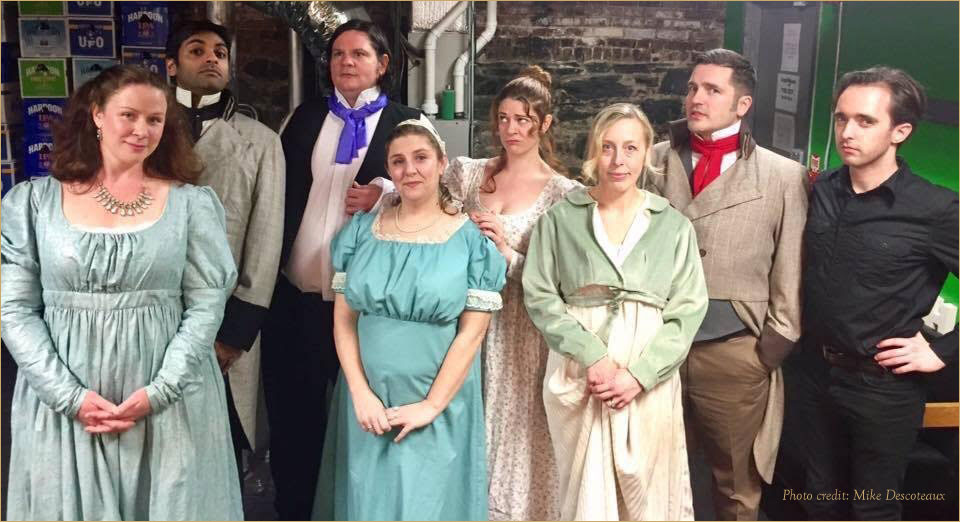 Throughout, the actors keep the plot moving — it's different every time they perform — and keep the participating audience laughing. It may sound weird, but The New England Theatre Geek says the troupe makes "courtship in the 18th century funny as hell."
The best part: you don't even have to be familiar with any of Austen's works to get the jokes. It's a "damn delight," the review says.
After the show, the actors will answer questions about improv (a form of entertainment that is no easy feat) before joining the audience for a meet-and-greet on the lower level.
The 75-minute show starts at 7:30 pm, but come at 7 and have a glass of wine or a beer. It will make you a better playwright.